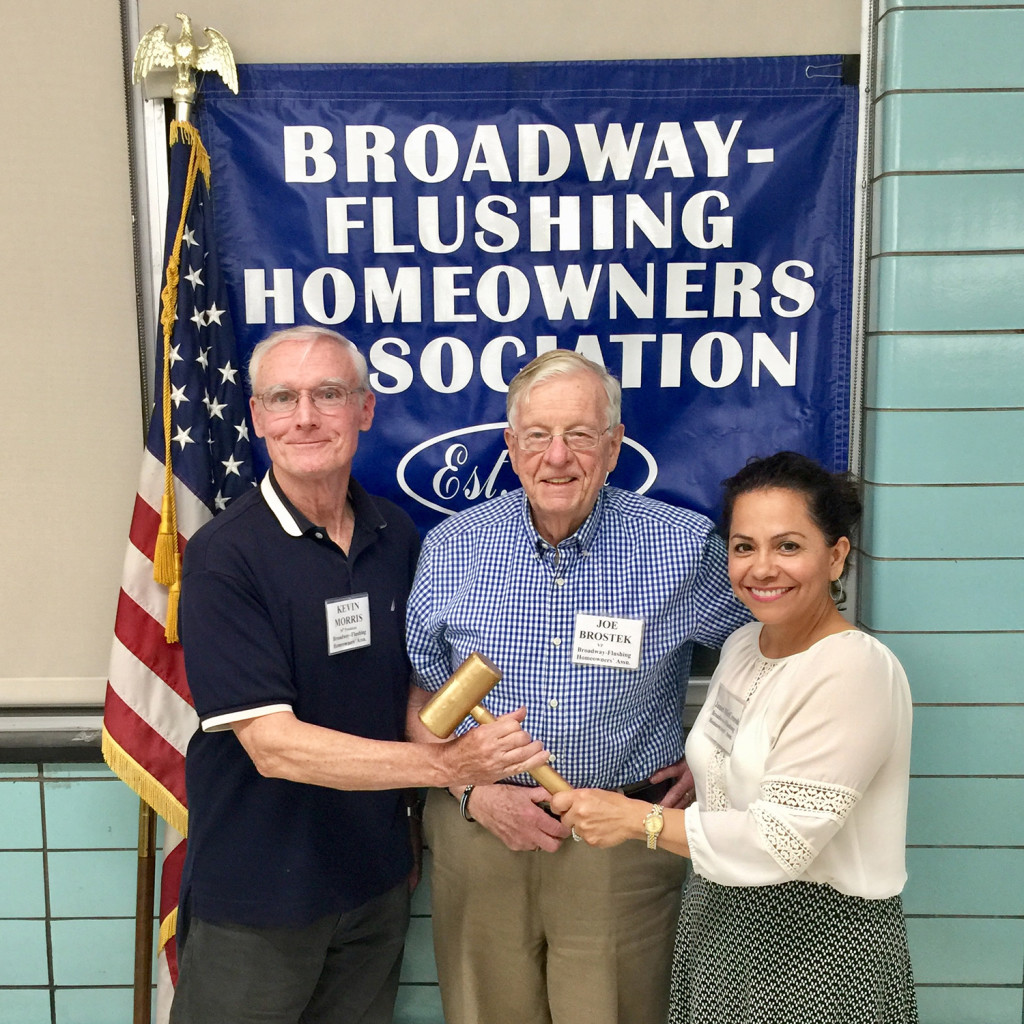 Broadway-Flushing Homeowners' Association vice president Joseph Brostek witnessed the passing of the gavel at the Association's recent executive board meeting. Janet McCreesh the organizations 29th president turns the gavel over to incoming leader Kevin Morris. Although she is stepping down as president, Mrs. McCreesh who has served the homeowners faithfully for many year plans to remain active. "It has been my honor to serve as President of the BFHA for the past two years.   It is truly inspiring to work alongside a group of people who appreciate our community and work hard to protect it.  I look forward to our change in leadership and am excited to work with our incoming 30th President, Kevin Morris."
In taking the reins, Morris said "It has been a pleasure to live in Broadway-Flushing for 60 years, and to have worked with the Association for much of that time. I will continue to promote the interests of the homeowners to maintain this as a premier New York neighborhood."
BFHA has had 29 uninterrupted terms of office since it was founded in 1964. Officers have included lawyers, teachers, architects, accountants, judges, homemakers and many more – all volunteers concerned about the quality of life in their neighborhood. The organization's primary mission has been the preservation and protection of the community from illegal conversions and zoning violations. The neighborhood's Rickert Finlay Covenant has been repeatedly upheld in court cases over the years and included precedent setting decisions for NYC. In 2006, the US Department of the Interior and the New York State Register placed Broadway-Flushing on the National Register of Historic Places.
Association meetings have featured representatives from the NYC Departments of police, fire, buildings, city planning, finance, sanitation and parks as well as the Botanical Gardens, Queens Quiet Skies, Community Board 7, Borough Hall, and members of Congress, State Senate, Assembly and the City Council.
Some traditional events include candidates night during election years, garden awards, picnics and concerts in Bowne Park. The Association's web site is broadwayflushing.org. General Membership meetings are held in the Spring and the Fall at Church on the Hill in Flushing.