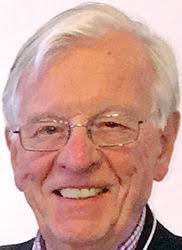 Broadway Flushing was saddened to learn that Joe Brostek had passed away on March 25.
The Brostek family sent an email to the executive committee, which follows this message below and outlines the arrangements at this time.  There are suggestions in it for donations in his memory.
As many of us are aware, Joe was a tireless advocate for the preservation of our neighborhood.  He became an active member decades ago and worked with Marge and Nick Ferrigno to recruit speakers, write letters to city administrators, and organize meetings which benefited the entire area.
Our Association was hardly his only avocation.  Joe was also involved with the Queens Historical Society, St. Andrew Avellino Church, and the Queens College Alumni Association.  As a longtime resident of Flushing, he had the institutional intelligence to imagine events and programs, do them successfully, and report on them to the local press – usually accompanied by his own photos.