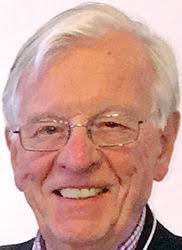 Broadway Flushing was saddened to learn that Joe Brostek had passed away on March 25.
The Brostek family sent an email to the executive committee, which follows this message below and outlines the arrangements at this time.  There are suggestions in it for donations in his memory.
As many of us are aware, Joe was a tireless advocate for the preservation of our neighborhood.  He became an active member decades ago and worked with Marge and Nick Ferrigno to recruit speakers, write letters to city administrators, and organize meetings which benefited the entire area.
Our Association was hardly his only avocation.  Joe was also involved with the Queens Historical Society, St. Andrew Avellino Church, and the Queens College Alumni Association.  As a longtime resident of Flushing, he had the institutional intelligence to imagine events and programs, do them successfully, and report on them to the local press – usually accompanied by his own photos.
Joe's early years were in the Hell's Kitchen area of Manhattan.  He graduated from Xavier High School in 1950 and entered Queens College.  After graduation, Joe enlisted in the Air Force and served with distinction at the Strategic Air Command HQ in Omaha.  When he finished his tour, he entered the business world and had a long and successful career as corporate communications director.
At an age when most retirees had golf on their minds, Joe secured a position at his alma mater.  Reporting to senior administration, he became the go-to event planner for meetings large and small: academic symposia, CUNY receptions, and graduation ceremonies fell under his purview and he became the expert in putting all the elements into place for successful gatherings.  With a receptive attitude toward changes for the better, he taught himself the basics of social media and kept himself up-to-date with its possibilities and applications.
Joe retired from that position about five years ago but stayed active with the Queens College Alumni Association.  He kept in touch with his fraternity brothers and organized reunions, which became more complex as the school's graduates moved all over the world.
Like a juggler, he kept a lot of balls in the air.  Even though he was a full-time employee of CUNY, Joe was the spark which animated the Friendship Club at St. Andrew's.  The club's mission, essentially, was to get together for lunch.  His efforts were directed toward the elemental human impulse to gather.
Putting a luncheon together, arranging for transport, getting a speaker – Joe was an expert at calling the right person or getting the right microphone.  Spending a few minutes with him, as he surveyed a hall, was an education in itself – how many seats, where is the power outlet (and does it work?), how many chairs fit on the stage, etc.  His quick analysis of any venue would answer questions before they became problems.
Joe was most generous with the most precious commodity there is – time.  The time he gave to others – family, friends, co-workers, trustees – cannot be measured.  It was all given with good cheer, a positive spirit, and an expectation of success.  There are few better examples of a life well lived.
May he rest in peace.
—————————————————————————
Dear Friend, Neighbor, Fellow Parishioner, Fellow QC Alumni, Fellow Queens Resident
It is with great sadness that we share the news of the loss of our dad Joseph Brostek on March 25 2020. He was in the hospital for a week struggling against the horrible covid-19 virus. Dad, always pragmatic and realistic, then stated his wish to us, which was to join our mother, Carol Brostek, in heaven. A few hours later he passed away calmly, in no pain, and at peace.
Growing up, any time we complained that a task he gave us was difficult, Dad's favorite response was "if it was easy, anyone could do it". He encouraged us to do that which was not easy. It is not easy to honor a loved one's passing in the current health pandemic. The Brooklyn Diocese has announced that there will be no more funeral masses for the foreseeable future. The funeral home is limited to family viewing a few hours before burial. There is no place to send flowers.
Mass cards may be sent to
Jeanne Altenau
12 Brassie Road
Eastchester, NY   10709
If you wish to donate to a charity that Dad supported, below are some excellent opportunities:
Carol and Joe Brostek Scholarship at Queens College
Mom and Dad first met at QC.  Created after Mom died in 2012, The Joe & Carol Brostek Scholarship is presented annually to a graduating senior who is planning to pursue graduate studies and has demonstrated academic excellence while serving in campus leadership positions that have benefited Queens College. Click on the link below and enter "Carol and Joseph Brostek Scholarship Fund" in the comment section:
https://qccommunity.qc.cuny.edu/QueensCollege/DonateNow
St. Andrew Avellino RC Church
For nearly 50 years, the entire Brostek family has received all forms of spiritual support from our beloved St Andrews.
https://giving.ncsservices.org/app/giving/avellino
Xavier High School
Growing up in Hells Kitchen NY, Dad attended Xavier High School where he learned the Jesuit values of integrity, justice and excellence.
https://securelb.imodules.com/s/81/rd16/index.aspx?sid=81&gid=1&pgid=2738&cid=5475&appealcode=XAF
Under the box that says My Gift is a Tribute to Someone Special please enter in memory of "Joseph Brostek, class of 1950"
Our family will be mourning in private for now. At some appropriate time later this year we expect to hold a proper mass to honor and celebrate the life of this amazing man who we are lucky enough to call Dad. You will be invited to celebrate with us and to share your own special memories of this amazing man.
We pray for the health of you and your loved ones during the pandemic. We attempted to include as many of the people in Dad's life as possible. If you know of someone who would want to know of this news, we encourage you to pass along this email.
The Brostek Family
Jeanne, Carol, Gerry and Annemarie