In January of 2016 Senator Avella held a rally in front of 33-05 157th to urge the Mayor and the Landmarks Preservation Commission to landmark Broadway Flushing. Since then we have had a number of tear downs and this site will host the biggest house in BFHA with over 6,200 sq. feet and 10 bathrooms. We urge the community to come back to this site on Thursday May 18th at 1pm to demand support from our city. The Architectural District Bill is our only opportunity to allow for a review of future building plans to conform with the architectural style of our neighborhood. Thereby maintaining the character that is Broadway Flushing. Come stand with BFHA and Senator Avella.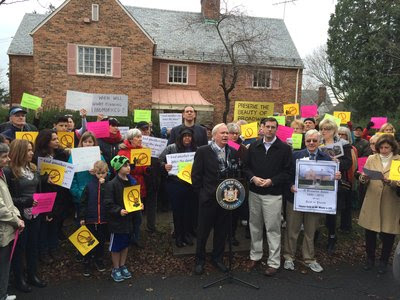 Our Purpose
The purpose of this Association is:
To conserve the Association area as a single-family, detached residence district.
To unite and encourage all homeowners and residents to maintain and improve the community of Broadway-Flushing.
To further our agenda by appropriate representation and other courses of action before the various City and State governmental agencies.
To keep the community informed about proposed zoning changes and their impact.
To alert the community to apparent violations of current zoning laws and Rickert-Finlay covenant provisions.
To keep our political representatives informed of important issues facing our Association.
To cooperate with other neighborhood and civic associations in promoting cultural events for the area homeowners.