From QNS.com: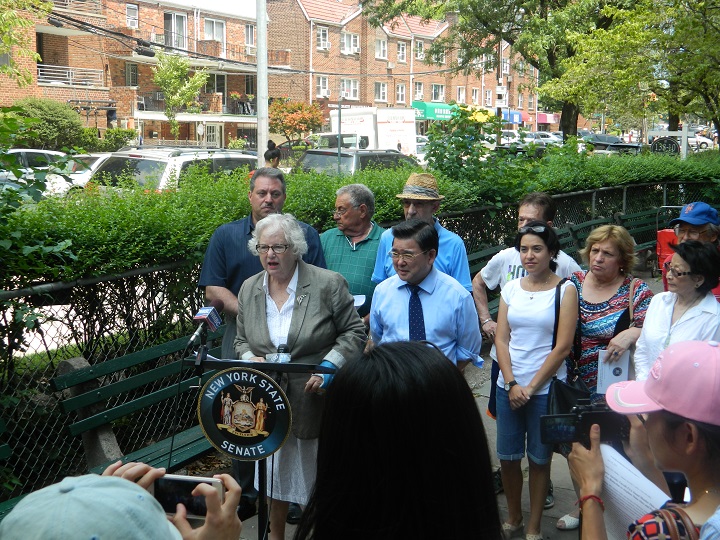 New data collected from a sound monitor in Flushing revealed a boost in aircraft noise, which violates regulations set by the Federal Aviation Administration (FAA).
The data from the sound monitor located on Franklin Avenue was the focus of a July 27 meeting attended by state Senators Toby Ann Stavisky and Joe Addabbo, Councilman Peter Koo, community activist Susan Carroll, Chairman of Community Board 7 Aviation Committee Warren Schrieber, Len Schaier of Quiet Skies, as well as residents and several other community leaders.
According to FAA regulations, airplane noise must not exceed the 65 Day/Night Noise Level (DNL), but data from the Flushing sound monitor showed otherwise. The information proved that the noise jumped beyond 65 DNL about a third of the time measured.
Out of 92 days, from March through May, plane noise surpassed the FAA limit on 32 occasions.
"The issue of plane noise is nothing new to the thousands of families being affected by it every day. Ask anyone living in this neighborhood and I'm sure they will tell you how disruptive plane noise can be," Stavisky said. "With this data, we now see what we've always known: parts of Queens are subjected to higher levels of sound than others. Not only must we ensure the federally set noise threshold is not surpassed, but we must also revisit the maximum DNL allowed. We now know the current threshold of 65 DNL is obsolete. Having been created in the 1970s , it could not take into account the numerous studies that suggest the negative health impact."
Stavisky drafted a letter alongside many of her colleagues in May, urging senators Charles Schumer and Kirsten Gillibrand to support methods that would decrease the DNL amount from 65 to 55. Various organizations and agencies, including the Environmental Protection Agency, World Health Organization and Harvard School of Medicine, supported the request for lower airplane noise.
Congresswoman Grace Meng, a founder and co-chair of the Congressional Quiet Skies Caucus, also expressed her disapproval of the disruptive noise levels.
"This noise monitor in Flushing was among the noise readers that the Port Authority installed in Queens after I urged the agency to do so," she said. "The increased DNL readings underscore the problem of excessive aircraft noise over our borough and why we must continue our fight to combat it. I've been leading the effort in Congress to do that and this includes initiatives to reduce the noise level standard to 55 DNL. We cannot allow the roaring sounds of airplane noise to disrupt the quality of life in our neighborhoods."
On July 29, state Senator Tony Avella and Assemblyman Michael Simanowitz addressed a letter to the FAA Regional Administrator Carmine Gallo, in reference to the ongoing helicopter noise.
Elected officials and community members are continuing to fight this uphill battle of aircraft noise throughout several northeast Queens neighborhoods.