From the Queens Chronicle: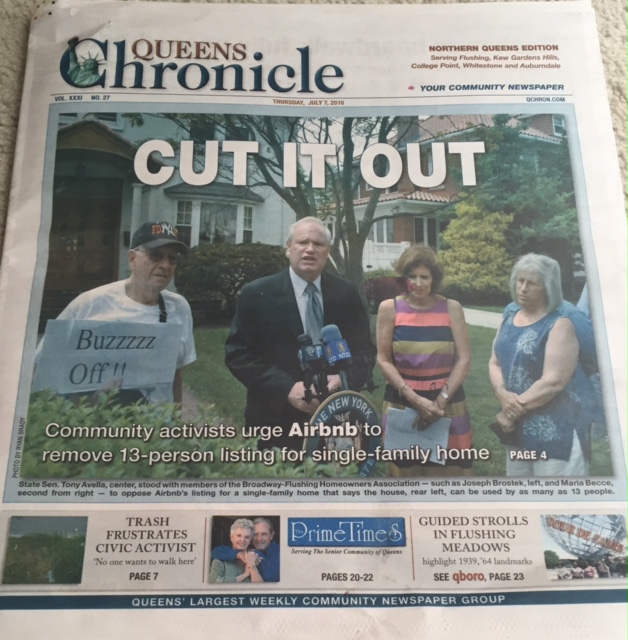 Advertisement for single-family home says 13 people can be accommodated
State Sen. Tony Avella (D-Bayside) stood with members of the Broadway-Flushing Homeowners Association last Friday to call on Airbnb to remove a listing for a single-family home that says the house can accommodate 13 people.
"Here we have a situation where, thanks to the community who cares about their neighborhood and watches out for illegal construction and illegal activity and illegal occupancy, they came across an Airbnb listing for the house behind me," Avella said at a press conference in front of the house, which is located at 35-32 159 St. "Now, anybody who knows anything about a one-family home district knows it's in violation of the zoning code."
The listing on Airbnb's website for the house says that six bedrooms are available, and that the entire house can be rented for large events and groups.
The Rickert-Finlay Covenant of 1906, which limits what homeowners in the area can do to their property, does not allow houses to be used for apartments or multiple families. And because the covenant is not enforced by the Department of Buildings, BFHA has instructed its lawyer to file a cease-and-desist order for the house.
"Airbnb, listen to what we're saying: This house should be immediately removed from your website," Maria Becce, the association's second vice president, said. "And to the owner of this house, you will be receiving a cease-and-desist order from the Broadway-Flushing Homeowners Association's attorneys and if necessary, we will bring them to court."
Becce added that the association first discovered an Airbnb listing for the property in March, which the company took down before the existing listing for the house was posted.
Avella, who sent a letter to the company on Wednesday urging it to take down the listing, indicated that he may introduce legislation to prevent similar incidents from happening in the future.
"Not only does Airbnb have to take care of this situation, they have to prevent these situations from occurring in the future," he said. "And if that means legislation in the future, that's exactly what I'm going to do."
In an emailed statement to the Chronicle, Queens Airbnb Host Club President Lee Thomas responded to Avella's call for the listing to be removed.
"The overwhelming majority of hosts in Queens are responsible home sharers who respect their neighbors and take pride in introducing visitors from around the world to our great borough," Thomas said. "We welcome the opportunity to meet with Sen. Avella in person to talk about why hosting is important for us and how we can work together to support legislation that would change the law to protect good hosts and weed out bad actors."
The maverick senator previously pushed legislation that would allow neighborhood residents and civic associations to file deeds with the DOB, which would enforce them, but the bills — which were introduced in the City Council when he served there, as well as the state Senate — didn't pass.
"Why should they spend hundreds of thousands of dollars protecting their neighborhood? That should be the city's responsibility," Avella said. "The ultimate solution is the city has to recognize these deeds and enforce them."